Thailand is a country that is rich in historic culture, stunning scenery, and amazing food. Here are 17 photos that will acquaint you with what the country has to offer and make you want to book a flight now.—Photos and words by Jennifer Arnow
This is the trail through magnificent limestone rock formations to get to Railay Beach, one of the most beautiful beaches in Thailand. Railay beach is located on a peninsula between Krabi and Ao Nang, but is only accessible by boat due to the steep karst cliffs that surround it. While boats can dock right on the beach, most come to the peninsula the back way, leaving visitors to take this trail through open, craggy limestone.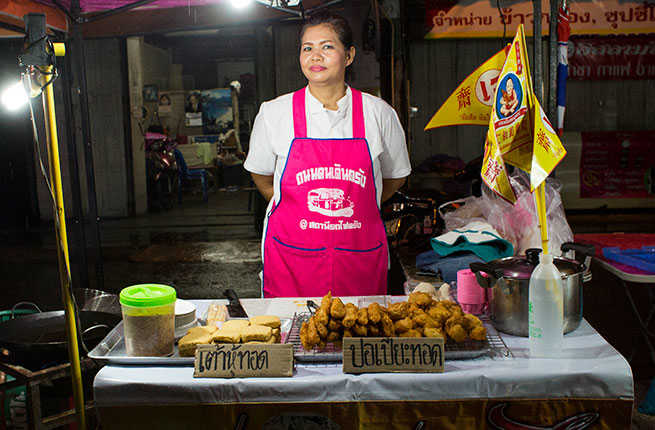 Trang Weekend Night Market
A woman selling fried snacks at the Weekend Night Market in Trang. This market is open for business every Friday through Sunday, near the Trang train station and offers an eclectic supply of street foods, like jellied candies shaped like rubber ducks, fried quail eggs, and taro cakes. There's even fresh sushi.
A closeup of ornate pearl decorations on the doors to Wat Khuha Sawan in Bangkok.
Limestone cliffs near Trang
Karst limestone cliffs meet the sea by the entrance to Emerald Cave, near Trang.
A southern Thailand feast at Baan Ma Ying on Koh Klang. The delectable restaurant sits on a canal just off the Krabi river and boasts it's own fish farm which diners must cross as they enter.
An overview of Bangkok city and the Chao Phraya River at dawn, from the dizzying heights of the Banyan Tree Hotel.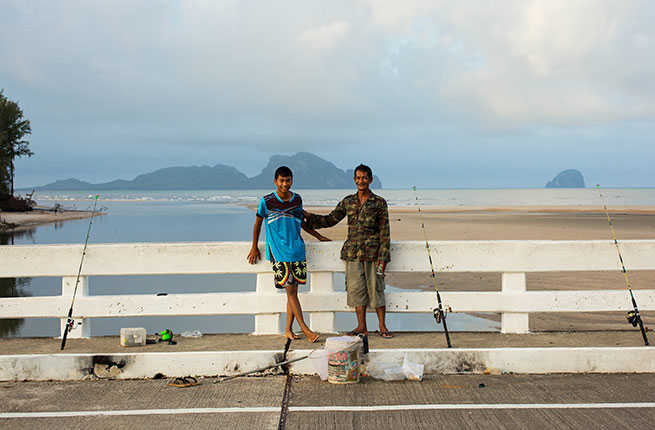 A father and son trying to snag the day's catch at low tide in Trang.
Thailand is one of the world's largest exporters of rice, with different varieties in every region. Although Koh Klang is mostly a village of fisherman, the island is also home to many rice farms, which grow a species of rice known as khao sam yod that is unique to the area. The rice here has been processed using a hand-powered mill.
The tranquil decor at the Anantara Si Kao Resort and Spa. The spa offers luxurious treatments with Thai ingredients like lotus flower and lemongrass.
When tasting all of Bangkok's glorious street food, don't forget to leave room for dessert: Freshly made coconut ice cream, sprinkled with toasted peanuts, and served in a carved coconut.
Snorkeling is a must-do activity in the inviting emerald ocean in Southern Thailand. The shimmering water is so clear you don't even have to leave the boat to see the brightly colored fish that roam the Andaman Sea.
A resident of the fishing village on Koh Klang, an island just off the Krabi River, having fun while demonstrating how rice crops are planted.
The picturesque island of Koh Kradan, near Trang, offers pristine beaches and idyllic Thai views.
Tropical plants are abundant in Southern Thailand, like this desert rose flower found in Krabi.
Street vendors in Bangkok sell a diverse assortment of meats and squid on a stick.
Hat Chao Mai National Park
Located in southern Thailand near Trang, Hat Chao Mai National Park includes over three miles of serene beach coastline. Walking along the beach at low tide reveals a bevy of treasures to be found, like these unique seashells.
The peaceful courtyard at Bangkok's Wat Suthat temple is surrounded by cloisters that are filled with over 150 glittering Buddha statues.